RxPhotosProfile
Checking and preparing pill dispensers has never been as easy or as efficient as with the RxPhotosProfile module.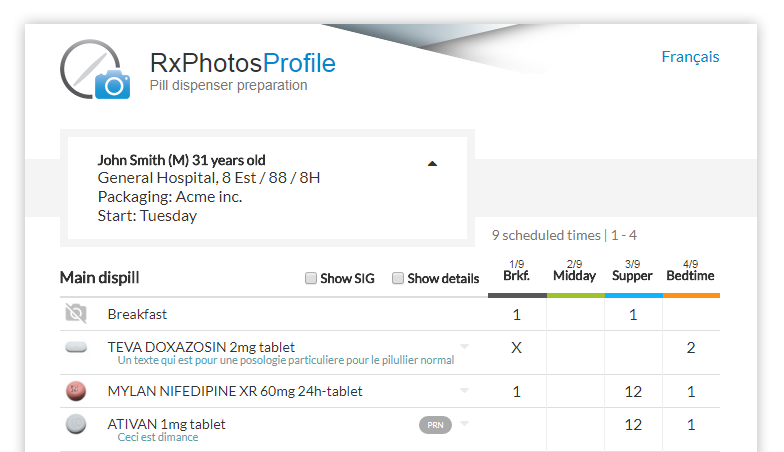 Pill dispenser preparation software
Streamline the process of preparing and verifying pill dispensers with RxPhotosProfile. This module has a user-friendly interface with an easy-to-read administration schedule, along with the ability to see which medications must be taken throughout the day.
Detailed administration times
The table detailing medication administration times provides all the information a health professional could need, including the dosage, prescription number, DIN and notes relating to each medication.
Pill dispensers
To make it easier for health professionals, administration times are colour-coded. Click on the high resolution photographs for a close-up look.
On-the-go
The RxPhotosProfile module was designed to be compatible with standard size tablets, making it easier for professionals who may be on-the-go within a healthcare facility or on the road.
Image quality
The use of high-resolution photographs allows for easy identification of medication, even on tablet-type devices that have a limited screen area.
Need more information?
For more information on the software products offered by Vigilance Santé, or for more on what RxVigilance can do for you, please feel free to contact us.