Compounding formulas
Our register contains the master formulations of over 500 non-sterile compounding preparations, including over 30 magic mouthwashes. You can count on this tool to quickly access the most appropriate formula for your particular situation and to help you safely prepare quality products.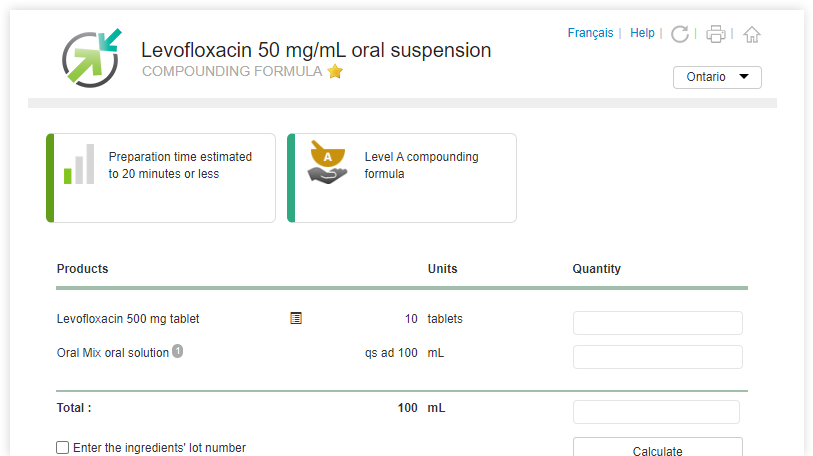 Master formulations
All our formulations are reviewed and referenced, and can be printed to document the preparation record.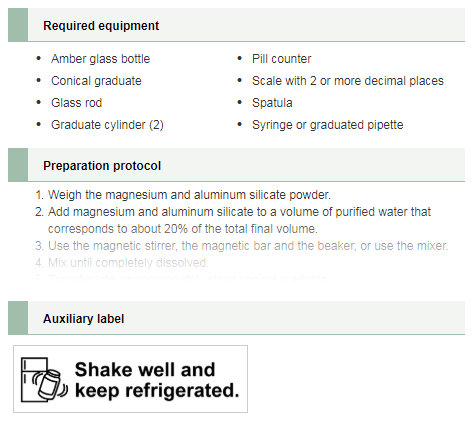 Automatic calculation of quantities
The data entry form automatically calculates the amount required for each ingredient. Users may also enter product names, batch numbers and expiration dates to document preparations.
Structured Information
Master formulas are presented in a way that is structured and visual. Icons make it easy to identify information that is essential to making the compounded preparation.
Estimated time needed to make the preparation
Precautions for Hazardous Drugs (NIOSH)
Identification of our preferred formulas
Compounding levels and categories determined by our team's interpretation of existing standards*:

NAPRA model standards
2012.01 OPQ standard
*It should be noted that the information contained in the RxVigilance Compounding Formulas module has not been reviewed, approved, or endorsed by NAPRA, the OPQ, or any other provincial or territorial pharmacy regulatory authority. It is the pharmacist's responsibility to ensure compliance with all applicable regulations.
Compounding search index
Quickly find a specific master formulation with the search index, which consists of an effective search field and a filter to refine your criteria.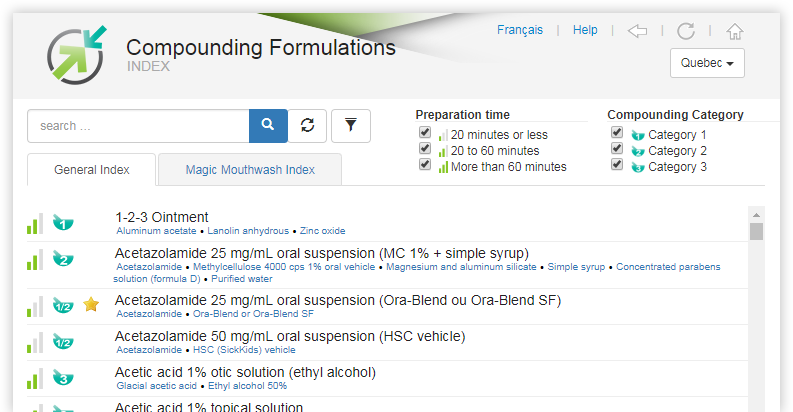 Included in RxVigilance!
This tool is part of RxVigilance. Subscribe to it today on our online store!
---
Need more information?
For information about the software products we develop or the services we offer, do not hesitate to contact a member of our team!