Perspectives
Pharmacological analysis results
Display in a single screen the detailed results of a patient's profile analysis. You can then quickly check alerts, locate items of interest and access additional information through direct links. Thanks to a richer analysis and an optimized display, Perspectives is considered a clinical tool in its own right.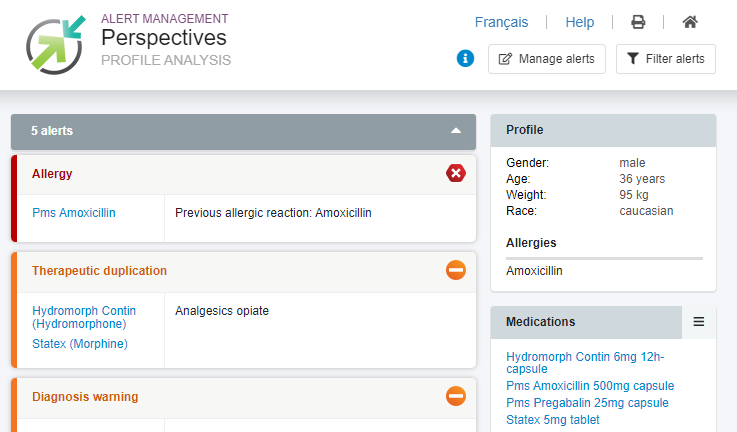 Easier alert analysis
This advanced analysis tool can generate up to 18 alert types identifying potential problems related to allergies, drug interactions, duplications, etc.
Powerful analysis engine
Alerts related to the patient's profile are generated by our analysis engine and are classified into three levels according to the nature of the intervention required to manage the problem. The information comes from the partner software or is manually entered into the Profile Editor.
Easy-to-consult alert cards
Alerts are displayed in the form of summary cards that indicate the alert type and level as well as the medications involved. The three levels are illustrated by corresponding icons and a distinct colour theme.
Dynamic display
You can extend your analysis by using the hyperlinks to access other useful RxVigilance resources. You can also display the alerts that are most relevant to your case by filtering them by level, type, medication, or indications and conditions.
Profile intensity rating
RxIntensi-T is a unique tool that helps you better set your priorities by quickly indicating the complexity level of a pharmacological profile. If the resulting score is high, you will likely need to devote more time and effort to the case, for example to perform a drug analysis or provide patient education.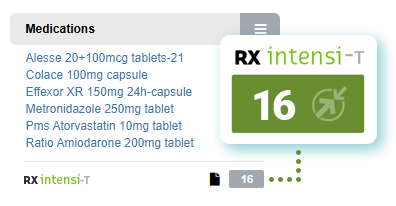 Morphine equivalent calculation
This calculation tool provides you with a daily non-clinical oral morphine equivalent for comparison and alert purposes. Since it takes into account all of the medications present in the profile, it is an ideal monitoring resource in the context of an opioid crisis.

Detailed side effects

Use Perspectives
From your workplace
Access the power of Perspectives with a single click from a patient record! Many health care professionals already have access to RxVigilance, in their pharmacy software or in their EMR for example. The profile data can be transmitted through a partner software and then automatically analyzed.
From your personal devices
You can be completely independent thanks to the web version of RxVigilance, and enjoy this user-friendly viewer from your personal computer or mobile device wherever you are. Simply manually enter the medications in the Profile Editor to view the analysis results in Perspectives.
Buy online
Need more information?
For information about the software products we develop or the services we offer, do not hesitate to contact a member of our team!