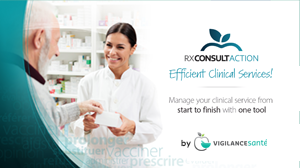 Discover RxConsultAction!
RxConsultAction is a Web application that seamlessly integrates with your pharmacy management system. Find out how its dynamic form offers step-by-step assistance to pharmacists, helping them provide and document clinical services.
Watch video
An introduction to RxVigilance
RxVigilance is a powerful pharmacological treatment clinical support software. Discover how it can help front-line health care professionals like you to make sound decisions and offer the best advice possible.
Watch video